Introducing 'Pain'
I want to tell you about this piece called 'Pain'.
'Pain' was painted in 2016; I was 38, and it is my second ever painting. I am a self-taught artist who came to the game very late.  
I drew at school as a child. But I never painted. I got a 'D' in my GCSE at school as I was supposed to hand in 3 pieces of work. But I got so obsessed with copying a wizard in ink pen that I ran out of time.  
I was creative back then; I remember getting in trouble when my step-father found drawings of people in lewd sexual acts drawn in the back of one of my school books. But I'd never painted. 
My first ever painting
So how does one get into painting aged 38?
I visited Bali with my soon-to-be wife, who turned into my ex-wife 3 years later.  
We saw this incredibly captivating painting of a bird on a dog's back.
I 'ummed and ahhed' about buying it - but I didn't. 
The indecision. The thought of transporting it, the money it cost. It was all a massive reflection of where I was at that point in my life.  
I took a picture of it!
I thought what a great idea to get one of her friends to paint it for her as a wedding gift.
How much easier would it have been just to buy it?  
After weeks of trying to sort this out, after the wedding had passed, she still didn't have it! It played on my mind, and in the end, I finally found the direction to get what I needed to do it myself.  
I bought a massive canvas and some acrylic paints and set to work.  
I practised a couple of times on paper. It was not the hardest thing to paint. I didn't need to know about colour or paint mixing; I just needed a steady hand and patience.  
And I made it! 
Not Real Art
It wasn't my idea; it wasn't creative. I'd copied someone else's work. But something changed in me then. I had pride and a sense of accomplishment.
That's not something that goes away
Every time I walked into the room, I would see it! I could be instantly reminded of my achievements, and my pride was like nothing I had ever felt.  
The Power of Art
Art, paintings, something you can see all the time. Every time you walk past it, you stop to take it in. It is not a memory; it's something visual. It's different.  
You never see art the same way twice. You notice new details.  
You don't need to be in a specific mood to face it! But art can improve your mood.
It lets you see things and layer your thoughts to dive deep into your emotions. It enables you to grow! You become more emotionally connected. You become more balanced and less lonely.  
You slow down and assess things more maturely. 
Life was not rosy.
My earliest memories involve sitting on my mum's lap while she explained she was leaving. I was 4! And although now, I understand that she never left "me" but instead a toxic relationship, I still sometimes see life through the lens of that 4-year-old boy who was torn in two for the first time. 
I spent much of my childhood in survival mode, with few safety blankets or ways to express myself. I suppressed all trauma and pushed it as far away as I could.
This turned into years of addiction fuelled with drugs and alcohol to repress an overwhelming feeling of grief. 
I didn't care enough about myself to value what I had to give to the world.
This made relationships very hard…
So how did I actually get into painting properly? 
All of my life had built up to this. The isolation as a child, the pain I'd endured, the sins I had committed, the adventures and life experiences I'd had. 
Being at my absolute wit's end, sat in my own fear and sorrow, having the paints in the house that I'd used to paint the dog and the duck! I started to paint!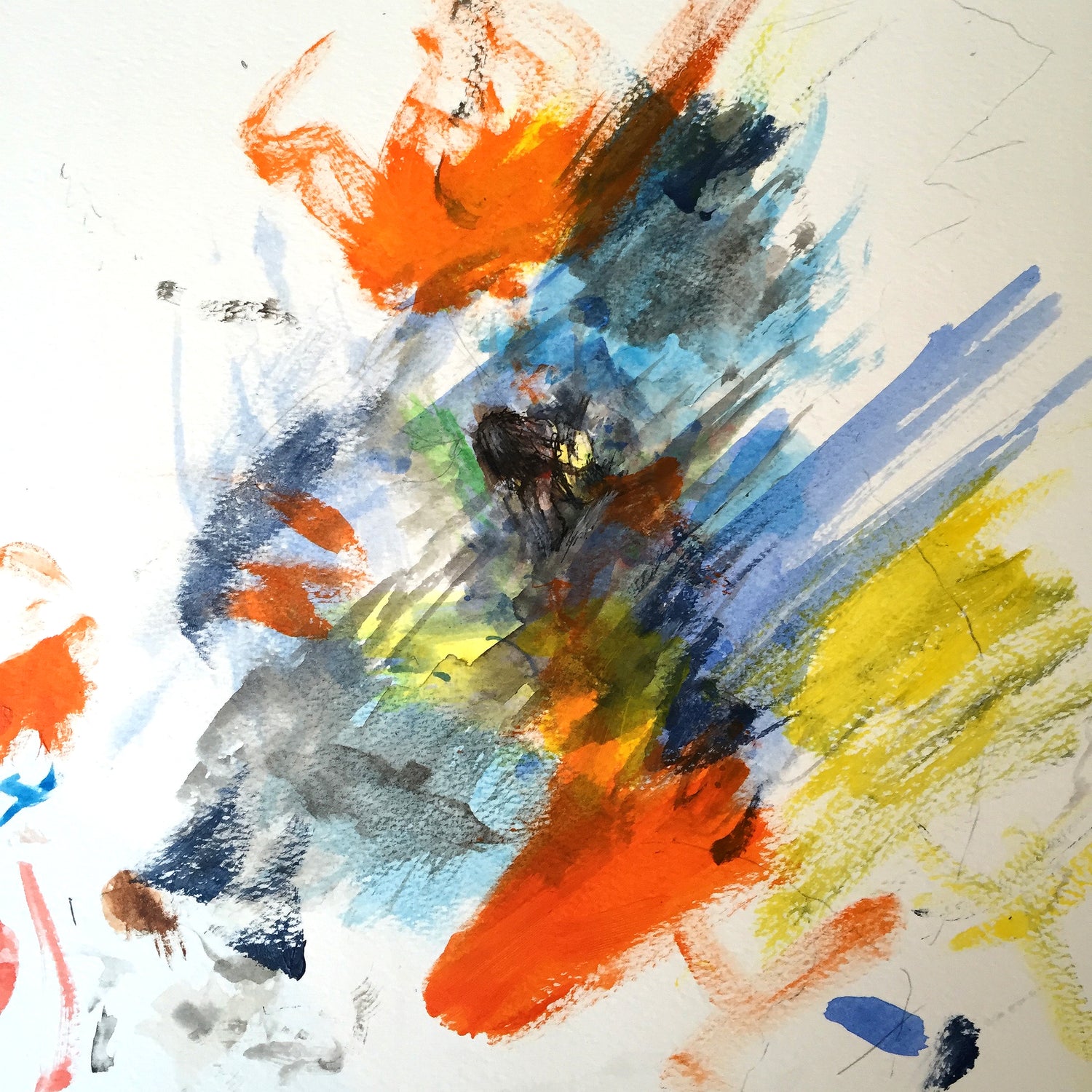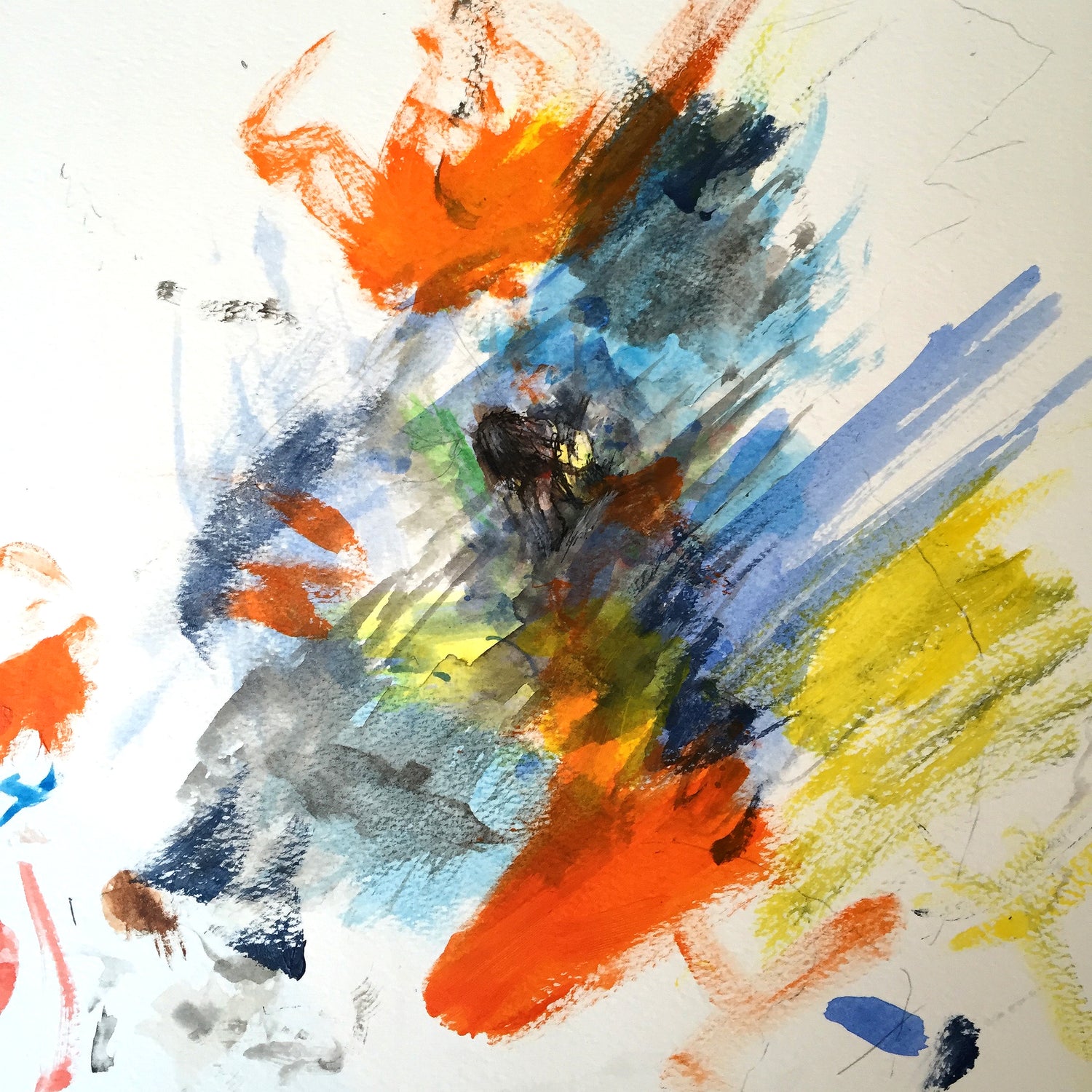 The story behind 'Pain'
I caused my ex-wife so much pain, not just in the final moments but as a man who couldn't quite get relationships right.  
But for this piece, it started with me just drawing her cowering! 
You can see her in the middle of the picture, small in the background.  
She is sat on the floor holding her knees, sobbing into her own lap. 
Connecting to other people's emotions
This was the first time I'd seriously started to consider things from the other person's point of view.  
I am a serial empath, but this is a defence mechanism for me.
Being highly tuned into people's behaviour and moods is a blessing and a curse.  
I didn't have a genuine care for others back then. 
This ability to gauge people's emotions was born from a survival phase in my life. It was from understanding other people's feelings and avoiding being traumatised, bullied, or hurt.  
It was all born from fear and survival.
I'd stopped drugs and alcohol. I couldn't turn off the pain or run away from it.
And I started painting...
I sat there, not thinking about myself but considering the damage I'd caused.  
This was the moment that I fell in love with art.  
It's an old cliche, but it's so true. Art can tell stories that words can't.
I'd revisit it. I'd be straight back to the same emotions.
Art helps you to process things
I seemed to have a good eye for composition. I have my own opinions of what looks good and what doesn't.
And this kept me in the space I'd usually try to escape. The shame, the guilt, the pain.  
So easy to run from with drugs and alcohol and other dopamine-inducing escapes.  
Brush in hand, 'it needs to look right,' so I drink in the emotion. 
I break down and cry, and; finally…
I start to see things from others' points of view with empathy, care and consideration.
Too late to turn back the clock
Starting to paint didn't erase all the harm. It didn't 'mend' me. It didn't instantly make me an angel! It didn't even stop my relapse into drugs and alcohol. But it did plant the seed - and I'm glad to say I've been 'clean' for over 4 years.
The art opened my eyes and laid the foundation for who I am today.  
An artist, a devoted father, and someone following my dreams.
I finished the painting…
A fitting portrait was painted, showing her stoicism and strength.  
A wink to life reminds me that we all move on, recover, grow and take our scars with us to lead a life that supersedes our expectations.  
Seven years on, I see the wink, her recovery, and our happy times together.  
But I am constantly reminded to guard my demons, soothe them, and not bow down.
What about you? - owning a piece of art
I know that owning this piece of art - called 'Pain'; will bring you solace. 
Imagine yourself in your house as one of the early investors in Deano Hewitts, with a stunning piece of art on your wall.  
You're not just investing in art - you are investing in yourself and your journey! 
Whatever the world throws at you while you're out and about, having a Deano Hewitts piece of art hanging on your wall when you come home will quickly help you realise what you were fighting for; set you back quicker on the path that you've chosen. One of growth and contribution.
Quality

Every time I see one of my prints next to the original, it blows my mind.  

The paper your print will come on is Hahnemühle Photo Rag 308 gsm! You won't understand this until you see it. It's so thick, textured and beautiful. 

My Guarantee

I want my art to mean as much to you as it does to me! 

If, for any reason, your art is not to your liking, I will happily refund you within 30 days.

(not applicable to originals)

Strictly Limited Prints

100 limited-edition prints available. (99, as I keep one for myself!)

Many artists sell between 175 - 250. This makes a Deano Hewitts print super exclusive.

Every print is signed

I sign and number every print making each one unique, increasing the investment value in the future.

I also include a Certificate of Authority.

Original

The original is for sale!

Lasts for 200 years

The paper and the technique are made to last two-hundred years. 

Shipping

All of my prints and originals are posted for free.

NFTs

I sell 50 NFTs of each piece.
Buy yours now
I want to thank you for taking the time to consider my art. I am on a bigger mission to help people who've struggled or who are struggling.  
My art means something; I want it to mean something to others.  
I've got a grand plan to build Deano Hewitts retreats where like-minded people can benefit from my own style of art therapy.  
I want to bring people back together in a somewhat disconnected world.  
I am incredibly grateful to everyone who invests in a piece of my art, as I know it's getting me closer to my dreams.  
And I hope that having a piece of my art will take you a step closer to living the life you want and get you closer to your dreams.